21
Feb
The rise in the ageing population has continued to challenge the technology industry to provide revolutionary solutions. The advancement in technology is improving the lives of the elderly and their caregivers, increasing safety and comfort.
Seniors are posed to health and safety risks by many basic household activities. To keep the aged safe from harm, family caregivers and nursing homes should consider buying senior-friendly devices to aid with injury prevention.
The lists provided below are some technological innovation to help seniors live their lives more independently and with fewer risks
1. Cleaning Floors
Robotic vacuum cleaners can clean up the seniors' floors, eradicating the risk of falls as well as injuries from vacuuming. Likewise, robotic floor washers will keep uncovered floors in bathroom and kitchen thoroughly clean. The great thing about robotic vacuum cleaners is that the homeowner can simply set and forget about the device and refrain from straining their body through the use of traditional vacuum cleaners.
2. Yard-work and Gardening
Robotic lawnmowers can easily navigate around the yard's borders and mow it to a set level. Moreover, gutter clogs can also be prevented by micro-mesh leaf guards so seniors don't have to manually clean their gutters. These technological innovations allow senior residents to sit back and take care of their health rather than risking an injury to complete household tasks.
3. The Kitchen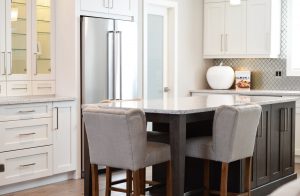 An internet-connected smart refrigerator identifies when any of its contents need restocking and automatically places the order for home delivery. The advancement in technology has made smart refrigerator available for seniors and doing everyday tasks for them. This technology allows seniors to be well-fed and also prevent unnecessary trips to the grocery store. Easily opened stoves, talking microwaves, glass cooktops and dishwashers are other kitchen conveniences that can enhance the lives of the elders. Kitchen safety is a priority for seniors since so many accidents can occur with all the equipment and appliances.
4. Mental Fitness
As far as physical fitness is important for seniors, mental fitness should not be jeopardised. The internet is a beneficial platform that helps the senior to socially engaged and mentally stimulated. Many of these platforms have video conferencing that allows long-distance interaction. This does not only foster the senior's mental fitness, it also helps them maintain social connections and promotes emotional wellbeing
5. The Laundry
Various companies involved in manufacturing laundry machines are now making pedestals that can lower or raise the machines, making it comfortable and easier for seniors to do their laundry without bending. Seniors can also easily operate laundry machines with larger knobs and readouts
The magic carpet is another monitoring system that serves a similar purpose but makes use of pressure points sensor instead. The presence of people in a room can be detected by flat sensors placed underneath carpets.
6. The bedroom
Smart storage solutions and wardrobes allow seniors to access their clothing safely. Innovations such as foldable rails and customisable shelving have made it easier for a senior to be independent. High tech beds that are height and position adjustable has increased the comfort of seniors. Some beds even have a bed sensor to alert another individual of any potential falls, or the senior individual can press for emergency assistance.
Since the elders are vulnerable to health and safety risk, both technologies aim to create surveillance systems to put the minds of caregivers at ease as well as enhance the elder's safety
In today savvy society, it's quite understandable why the most effective products to help seniors and caregivers are innovative technologies that promise to make daily well-being easier and make health monitoring a breeze.